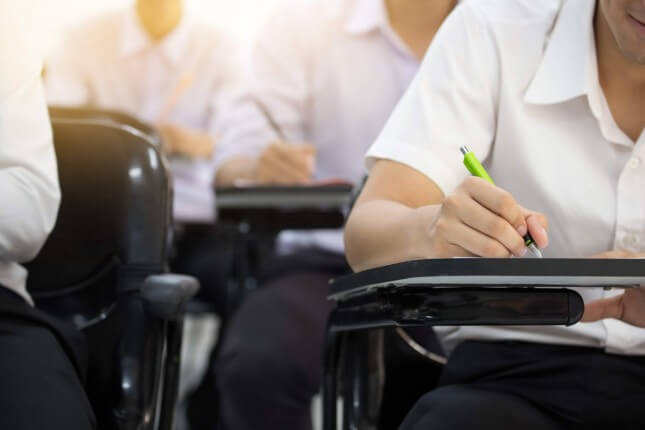 Design of Assessment Tasks
Use large clear sans serif font (not Times New Roman)

Allow brainstorming space (eg add a brainstorm bubble) and a cue to brainstorm before answering. Ensure brainstorming time is built into the question time.

Provide planning scaffolds (eg paragraph or essay)

Double space lines to accommodate students with big writing. Make a note that students don't need to fill all space.

Double space typing so question are clear and students can highlight keywords

Leave a last page deliberately blank for rewriting or extending answers

Provide stimulus in advance were possible.

Type and double space stimulus in a large clear font.

Indicate expected time per question with at least 5 minutes allowed for final editing at the end. For example, rate questions with a *., with each * allocated 5 minutes of test time.

Allow perusal time. Allow students to highlight and write during perusal. Writing might be restricted to writing on the stimulus provided.

During Perusal
Teach students that:
as soon as writing for perusal commences, they should brainstorm a list of all key terms, facts, dates, names etc on a blank piece of paper (eg planning page or back page of stimulus). Use these in extended written responses and tick each during last five minutes of test. Teach students to check that all key content has been utilised where relevant.

Read all directions and all questions first

Highlight keywords in questions

Highlight key information in stimulus

Code questions to relevant evidence in stimulus (eg Q2 a)

Annotate highlighting with phrases, terms and facts which will be useful in answers

Use different colours to highlight different concepts related to specific questions (eg change and continuity in History)

During the exam
Work through the paper according to the time plan- leave answers and come back at the end if time. Highlight questions and turn down page end, or use post -it-notes to remind you to come back.

Always move to the concluding paragraph of an extended written piece in the last 10 minutes of the exam. Leave space in body to go back and fill in later if time.

Use terms and ideas in early questions to help you answer later questions.

Write on right page of exam books so you can leave the left page for inserting ideas