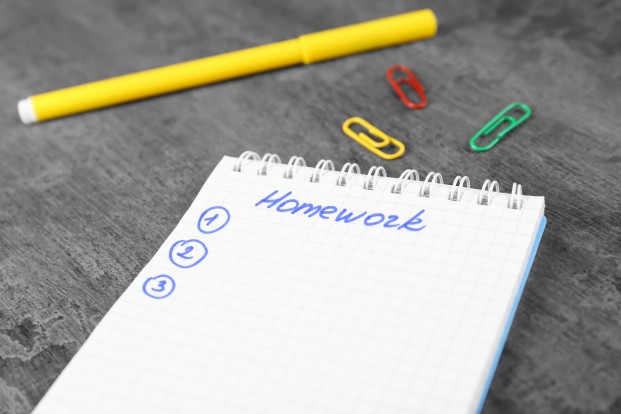 It is no secret that homework causes stress for students and parents. There are battles, frustrations and tears and parents are left wondering what they are doing wrong. The main difficulty is that kids have different and fluctuating reasons for not wanting to do homework.  Just when you think you have it all figured out, the reason changes and the frustrations come back.   When your child is overwhelmed or frustrated by homework, it can have a negative impact on his or her ability to focus and retain information. It can also lead to your child procrastinating on his or her homework (or simply not completing it), creating an ongoing cycle of stress.
However, this feeling of not being in control can be avoided by simply adjusting your study habits. Homework and study can actually be a rewarding, satisfying experience if done in an organised and efficient way. Here are 10 tips on how to achieve that.
1. Practise good time management skills
Time management is key to avoiding homework stress. Plotting out the time needed to complete homework or assignments can quickly make what seems like an overwhelming task much less stressful to approach. Make sure your child is focused on the task at hand and remove all distractions.
Set aside a certain amount of time each day to work on your child's homework, and choose a time that sits you both.
Use a calendar or school planner to plot out homework. List important dates, when things are due and when your child has exams. This will help you have a good visual of things they need to work towards.
Allow enough time to complete your work. Making sure you give yourself enough time to complete your work is crucial in avoiding a meltdown. Be realistic. Estimate how long you think it will take each day to complete your homework, and allow plenty of time for bigger projects and assignments.
2. Ask questions

One of the biggest cause of homework stress is not understanding the question or how to solve the problem at hand. As much as parents would like to help their children with homework, the material taught in school has changed a lot over the years. If your child is struggling with homework, ask them to make a list of questions he or she can take to the teacher to get the help needed to understand the assignment.
3. Get started early
Every day after school, sit down with your child and go over homework assignments for each class. Help him or her make a list of what should be completed that night and get started early. Waiting to get started until later in the evening means your child has less time (and energy) to complete his or her homework, leading more stress for both of you.

4. Stay organised
A cluttered homework station can be distracting. Make sure the space is kept neat and tidy and has all the supplies your child will need to complete his or her homework, including pencils, paper, and textbooks.

5. Get a good nights sleep
Get your child into a regular sleep routine, so he or she has a chance to recharge after the day. Children aged 6-13 years old should get 9 to 11 hours of sleep each night, while teenagers need 8 to 10 hours of sleep. This will significantly help focus, memory, decision making and creativity, all of which are important inside and outside of the classroom.
6. Review your agenda regularly
Your child should have an agenda where he or she writes down all homework and assignments given by the teacher. Have your child review the agenda each day to make sure he or she knows what homework assignments need to be completed.
7. Organise a homework group
Creating a homework group can help make homework less overwhelming by giving your child the chance to go over the material with his or her classmates. This gives kids the opportunity to better understand the material by teaching it to each other and working through any questions as a team.
8. Walk away if it is overwhelming
If your child is starting to feel anxious or overwhelmed by your work, take five deep breaths and give him or her a moment of calm. Deep breathing will help control their nervous system and encourage their body to relax, bringing them into a better state to concentrate. Encourage your child to take a break and come back to it giving your child a clear mind to restart where they left off.

9. Make time to relax
Set aside time for your child to do something that he or she enjoys, whether it's an activity at home or an organised extracurricular activity. On top of helping your child get important exercise, it will also give him or her a break from homework stress and an outlet for any frustration or extra energy.
10. Stick to a schedule
Help your child plan out his or her time, scheduling time for homework, chores, activities, and sleep. Keep this schedule handy so your child knows what he or she should be working on, and when.
NO MORE HOMEWORK STRESS

Learning how to handle homework stress will help your child get more out of homework assignments, while also helping him or her develop better learning habits. Using these tips, your child can learn to tackle homework with more confidence and less frustration.